First Annual Christmas Market!
The 108 Heritage Site will be holding their First Annual Christmas Market on Sunday, Dec. 11 from 11 am to 5 pm.  There will be many vendors with beautiful crafts, baking, jewelry, books, food, and so much more.  Great time for that last minute Christmas shopping and stocking stuffers.  There is plenty of room outside for anyone wanting to sell their products so if you have a tent please bring it along.  You can end an email to [email protected] if you are interested or call 250-791-5288 - leave a message and someone will get back to you asap. Outside spaces are $20.00.  We will have activities for the children.  It will be lots of fun!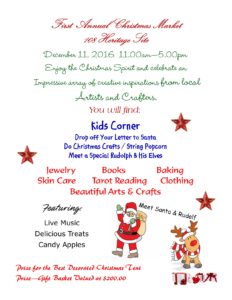 4690 Telqua Dr.
108 Mile Ranch, BC
V0K 2Z0
Hours
Closed for the season
See you next May!
Contact Us
(250) 791-5288
Our members provide our society with valuable input and ideas for improving the 108 Heritage Site. If you have a passion for the history and heritage of the area that you live in, we'd love to have you as a member!
Help clean up the site in preparation for a new summer, or assist with events such as our Canada Day Celebration. The 108 Heritage Site would not exist without volunteers!
As a non-profit organization we depend on your generous donations in order to keep our society and the Heritage Site functioning. Donations help us pay for repairs, host events for our community, and pay the wages of our summer labourers.