NOW OPEN!
Open Thursday to Monday from 10 am to 4 pm
Closed Tuesday and Wednesday
Contact Us
(250) 791-5288
[email protected]
4690 Telqua Drive, Box 225
108 Mile Ranch, BC  V0K 2Z0
RESTORATION OF THE FRONT PORCH
A huge thank you goes out to Peter Vogler, Grant Carnochan and Peter Mayr for restoring the front porch of the Museum.  Excellent work guys!  Once the weather cooperates then it will be painted.  
Positions filled
HERITAGE SITE INTERPRETER
SUMMER STUDENT POSITION
100 Mile & District Historical Society (108 Mile Heritage Site)
2 Positions – Full Time Temporary
JOB DESCRIPTION:  Job Term May to end of August
Customer Service & Tour Guide for Heritage Museum & Site visitors
Provide information and brochures about Site history
Good basic computer skills relevant to research & local historical stories
Assist with Site plant and gardens care (watering & dead heading)
Assist with Museum and Site cleaning and upkeep
QUALIFICATIONS:
Must be personable, have good communication skills and be a good team member
Experience with Microsoft Word and Excel programs
Be willing to learn the history of the 108 Heritage Site
Daily Heritage Uniform requirements
Must be able to work weekends and holidays throughout the summer
Able to begin work in May or as soon as possible
HOW TO APPLY:
Please submit your resume to [email protected]
Include Subject: 2022 Summer Student Program Application
Christmas Market
December 4th, 2021 from 10 am to 2 pm
in the Clydesdale Barn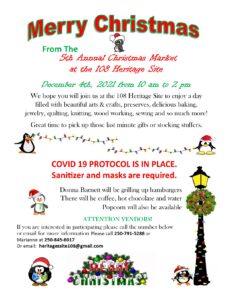 COVERED OUTDOOR PATIO
Sitka Log Homes put up the structure and our Directors along with some great friends started putting up the roof.  This structure can be used for special events such as family gatherings, birthday parties.
There is a BBQ set up inside that can be used with picnic tables scattered around.  As the roof progresses more pictures will be posted.
Due to Covid-19 spreading as it is, we have decided to cancel the Christmas Market this year.  We feel it best to keep our Community, vendors, customers and ourselves safe and healthy.  Everyone please stay safe and healthy and have a wonderful holiday season.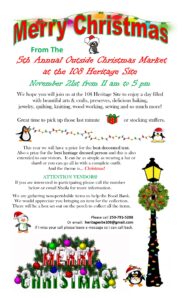 Christmas is coming!
Hope you all come out and visit all the vendors on Nov. 21st.
Due to COVID-19 the 108 Heritage Site will not be having a Canada Day Celebration.  Sorry everyone.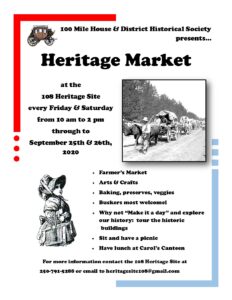 We now have a Friday Market as well as our Saturday one. Drop by and see what the vendors have for you.
If there are families out there that would like to have a guided tour of the outside buildings please let us know

Family groups of up to ten people would work well.

We have written self-guided tours in English, German, Dutch and French for you to follow if you wish.

Please call or email us so that we have a tour guide available.

The cost would be $50.00

Please call 250-791-5288 or email:  [email protected]
2020 Season
Unfortunately, because of COVID-19 we will be unable to fully open the 108 Heritage Site this season.  The Museum, Gift Shop and Chapel will remain closed until it is considered safe to open them.
The outside buildings will be open for viewing starting June 1st.
The buildings will be open from 10 am to 5 pm daily.
There will be outside tour sheets in English, French, German, and Dutch on the porch of the  Museum for anyone who would like to know about the buildings.  There will be maps available as we must also keep a direction in place so there are not large groups gathered in one spot.
PLEASE keep in mind that social distancing is still in effect and you need to be 2 meters / 6 feet apartwhen outside your own group.
Carol's Canteen will be here for lunches and treats starting Jun 6th.  There are picnic tables on site where you can have lunch at or just sit and have a break.  Please remember social distancing applies to the picnic tables as well – ONLY 4 to a table please.
Enjoy the Site and hopefully COVID-19 will come to an end soon.
Please everyone, stay safe and healthy.
          DONATIONS WELCOME
Come on by the Heritage Site and meet Tanya and Tracy Lynn and share some stories with them. You just might hear your story in a song. July 31 to Aug. 3 at the Post House from 10:30 am to 3:30 pm. The ladies will also entertain you later at 7 pm with some great music. If weather permits it will happen down at the stage, so bring a lawn chair and maybe a blanket and if not, then it will be in the Chapel. You won't want to miss it.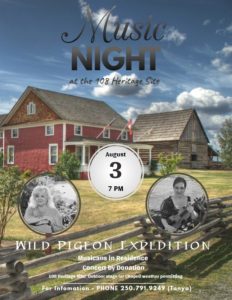 Announcing Wild Pigeon Expedition – Musicians in Residence at the 108 Heritage Site
Wednesday, July 31 to Saturday August 3, 2019.
Wild Pigeon Expedition is a duo comprised of Tracy Lynn (Vancouver Island) and Tanya Guenther (108 Mile Ranch). See bios attached below.
Goals of the residency include:
• Research for the purposes of creating a body of work based on the history of the BC Gold Rush. This work will consist of songs and stories that will bring to life the people, land, journeys, experiences history and folklore of the BC Gold Rush.
• Sharing of songs/music with the local community at the conclusion of the residency.
• Future plans include using this work to facilitate destination planning of visitors through supporting community and events along the Gold Rush Trail via performances and activities relative to the Gold Rush experience/era.
During the residency, Tracy and Tanya will be working from the Post House at the 108 Heritage Site. Members of the community are invited to participate in the residency through two different opportunities:
1. Drop in to the Post House between 10:30 a.m. and 3:30 p.m. daily (July 31 to Aug 3) to share stories about the history of the Gold Rush Trail and the local area. Coffee will be on!
2. Saturday evening concert. Public concert on Saturday, August 3 at 7 p.m. at the 108 Heritage Site on the outdoor stage (bring a lawn chair or blanket). If the weather is not great the concert will be held in the 108 Heritage Site Chapel. Admission will be by donation.
For additional information:
Tanya Guenther
phone: 250.791.9249
cell. 250.457.0649
email: [email protected]
Bios:
Tracy Lynn
I am a Canadian singer, songwriter, musician and performer from Vancouver Island, British Columbia Canada. I've had the good fortune to travel throughout Canada and experience music in a variety of meaningful settings. From campfires and beaches on beautiful Vancouver Island to kitchen parties and legion halls of Cape Breton Island and Newfoundland. I have performed in lounges, bars and house concerts as well as at festivals, fund raising and showcase events. Regardless of the setting, it is quite an honour to be performing with or for the folks that make Canadian music truly unique and I'm thankful to be a part of that.
As a performer, I have worked in various groups and duos for more than four decades where I developed a fondness for the intimate performance settings of house concerts. I love getting to know people, taking time to hear their stories, and spending time at their kitchen tables – jamming and talking music!
http://tracylynnmusic.com/
http://inthejammusic.com/
http://soundwaveslessonstudio.com/
http://thesavageheartstrio.com/
Tanya Guenther
Tanya has been involved in music in various shapes and forms from an early age. She first started singing, dancing, and performing at the age of 5. After being introduced to bluegrass and old-time music, she has spent the better part of the last decade learning more about these styles of music.
Tanya has an interest in the Gold Rush Trail and its history. As a descendant of the Felker family, she has a close connection with the South Cariboo. She is excited to explore the stories of her family who arrived in this area in the 1860s.
For the past 6 years, Tanya has been a member of Front Porch, a South Cariboo based bluegrass band. She plays fiddle, mandolin, and is also a vocalist singing lead and harmony. They have performed at a wide variety of events throughout the South Cariboo.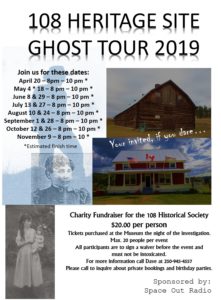 Ghost Walk this weekend, July 27th here at the 108 Heritage Site.  Be at the Museum for 7:30 and start the walk at 8 pm.  Cost is $20.00 per person. 
You never know who you might run into.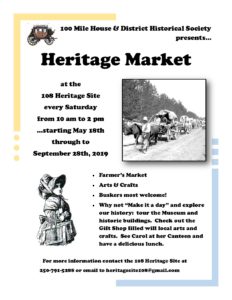 Our members provide our society with valuable input and ideas for improving the 108 Heritage Site. If you have a passion for the history and heritage of the area that you live in, we'd love to have you as a member!
Help clean up the site in preparation for a new summer, or assist with events such as our Canada Day Celebration. The 108 Heritage Site would not exist without volunteers!
As a non-profit organization we depend on your generous donations in order to keep our society and the Heritage Site functioning. Donations help us pay for repairs, host events for our community, and pay the wages of our summer labourers.